Blanca Blue Restaurant
Restaurant & Lounge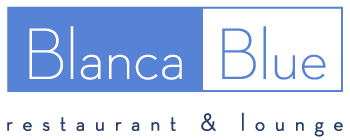 Blanca Blue Restaurant & Lounge offers one of the best views of Banderas Bay, Puerto Vallarta and the Los Arcos natural landmark. Stunning architectural design and undeniably beautiful natural surroundings set the stage for an ideal romantic evening or a unique social gathering.
Our menu is unique, distinctive and designed in order to perfectly combine textures, flavors and temperatures with every dish. Main dining room can accommodate 90 guests and our terrace, another 32. Our cuisine is contemporary; classic and modern techniques are used to turn fresh ingredients into culinary delights.
We've been certified with the noted Distintivo T "Agave de Oro" award that is part of a thorough program that trains and qualifies venues and staff in order to offer knowledgeable tequila experiences. In this case, the Agave de Oro also means our venue offers more than 100 premium brands of Tequila.
Our wine cellar boasts more than 2300 bottles and was chosen as the Vallarta Lifestyles Readers Choice for top wine cellar in Puerto Vallarta in 2010. We focus on premium, artisan Mexican wines but also offer a very select collection of imports from around the world.