Description
Floor Plan
Virtual Tour
Ultra Perks
For beautiful ocean and resort views, enjoy this 1,545 sq.ft luxury residence with a separate master bedroom and spacious floor plan decorated with a modern touch. A full kitchen opens out to a large lounge-diner and furnished ocean view terrace offering a wonderful base for incredible Puerto Vallarta vacations.
Whether you are choosing a One Bedroom suite from the Ultra Suite range with separate Master Bedroom, kitchen, lounge and dining room for a more spacious romantic getaway or honeymoon, or to ensure you can spread out with all the family, this 1,545 sq.ft luxury residence is just the key. Beautiful ocean and resort views from the highest floors are guaranteed when choosing from the Ultra Suite range and you can be sure the spacious floor plan decorated with contemporary flair will bring a touch of class to any romantic escape or family getaway in Puerto Vallarta. 
Amenities and services
One king-size bed, sofa bed, two bathrooms, whirlpool tub with independent shower, fully-equipped gourmet kitchen with utility room, spacious living room, flat screen TV and a private terrace with a large hammock.
Private balcony
Private balcony
Private balcony
Oversized hammock
Private balcony
Private balcony
Safety deposit box
Private balcony
Private balcony
Full size kitchen
Stainless steel appliances
Deep soaking tub and separate shower
Walk-in closets
Luxury-count threads
Oversized baths with dual vanities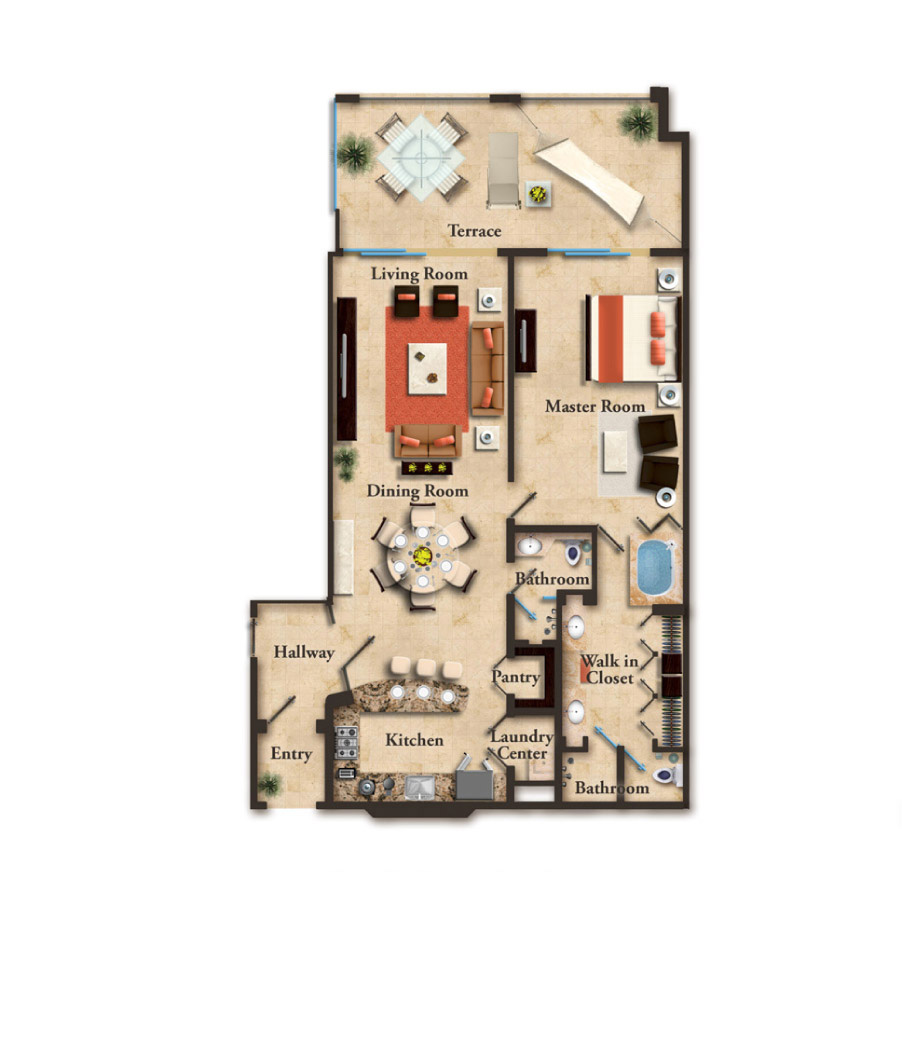 Occupancy: 3 adults or 2 adults with 2 children.
One bedroom; 1 King bed and 1 sofa bed in the living room
2 full bathrooms.
View: Ocean
Avg. sq. feet: 1545

Ultra Perks
Enjoy special perks when you choose this Ultra Suite category. Not only will you enjoy the best views of Banderas Bay from the highest floors, you will also be treated to complimentary WiFi and a choice of Signature Experiences: Sweetheart Treats or Family Comfort
starHighest floors for the best views guaranteed (floors 4, 5, 6 and 7 )
starWiFi Included
starSignature Experience: Sweetheart Treats or Family Comfort
Signature Experiences
Let us pamper you and your companions with one of our Luxury Experiences reserved for this suite category. Choose one of the following themes: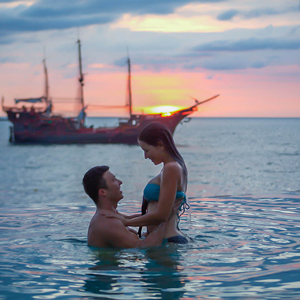 Sweetheart Treats
Welcome bottle of sparkling wine
Bath butler (to prepare romantic bubble bath)
Premium honor bar
Couple's photograph
Read more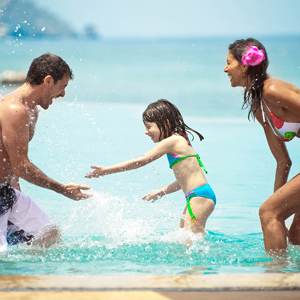 Family Comfort
Kids fun pack of amenities
Honor bar for adults and children
Family portrait keepsake
Nighttime treat for children
Apple TV upon request
Family paddleboarding
Plant a tree activity
Read more
Terms and conditions
Room Only Plan: rates are based in double occupancy and are subject to changes without notice.
All Inclusive Plan: rates are based per adult, according to the maximum room capacity.
Premium honor bar and Welcome bottle of champagne are once per stay only. Minimum length of stay is 3 nights.
Do you love traveling?
Subscribe to receive e-mails about special offers and exclusive Resort news.